Allegra Watch
bulgari
Ref . 103499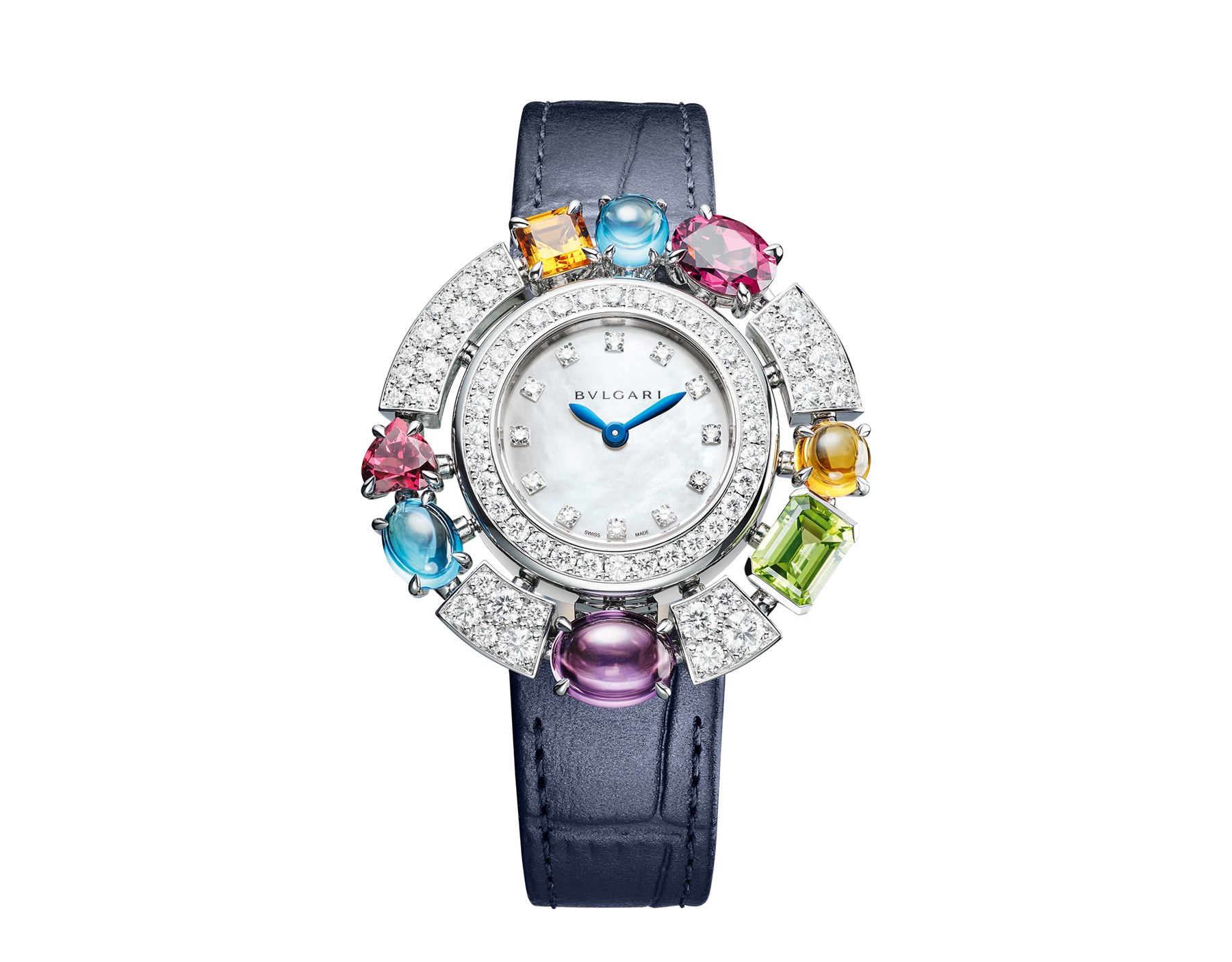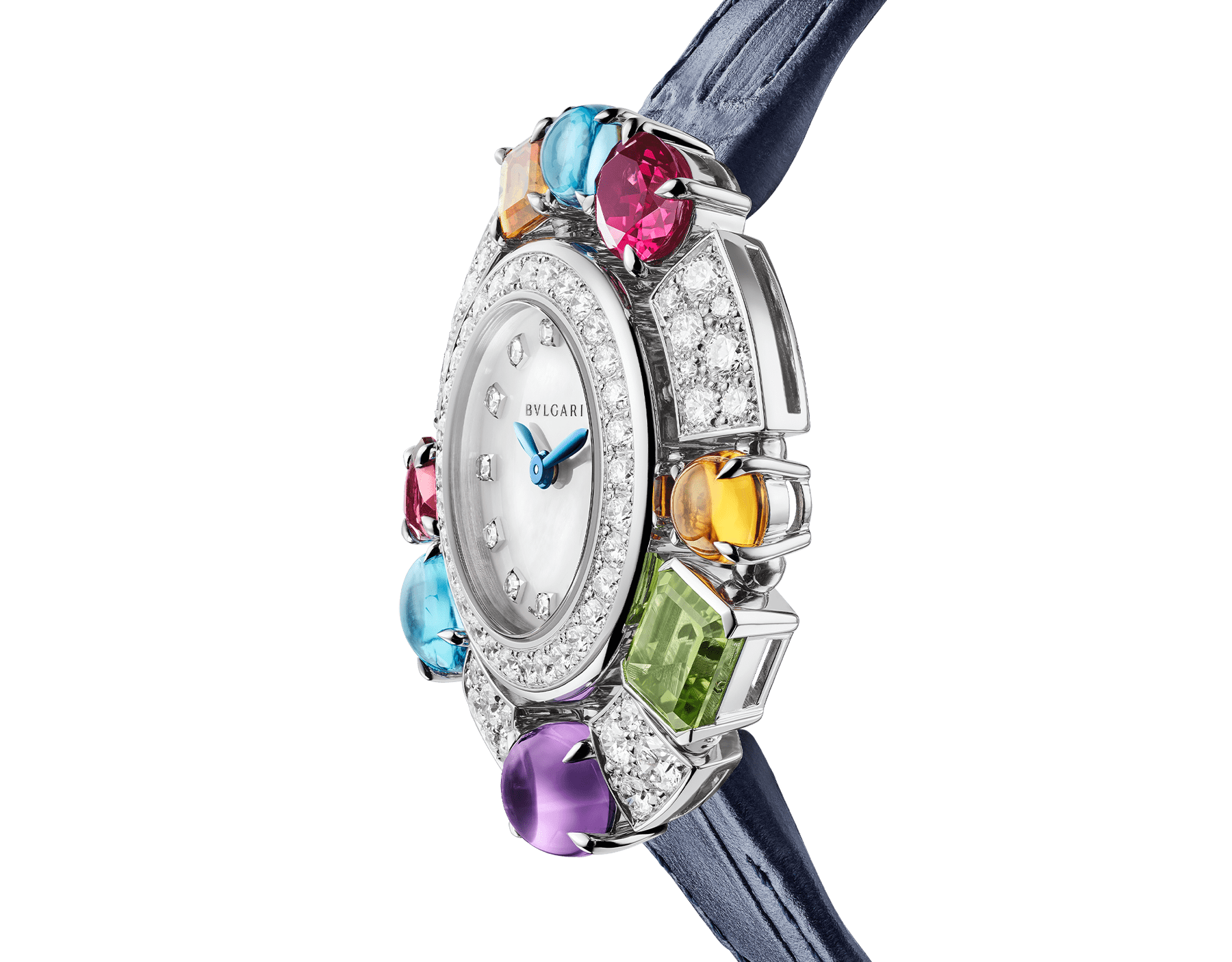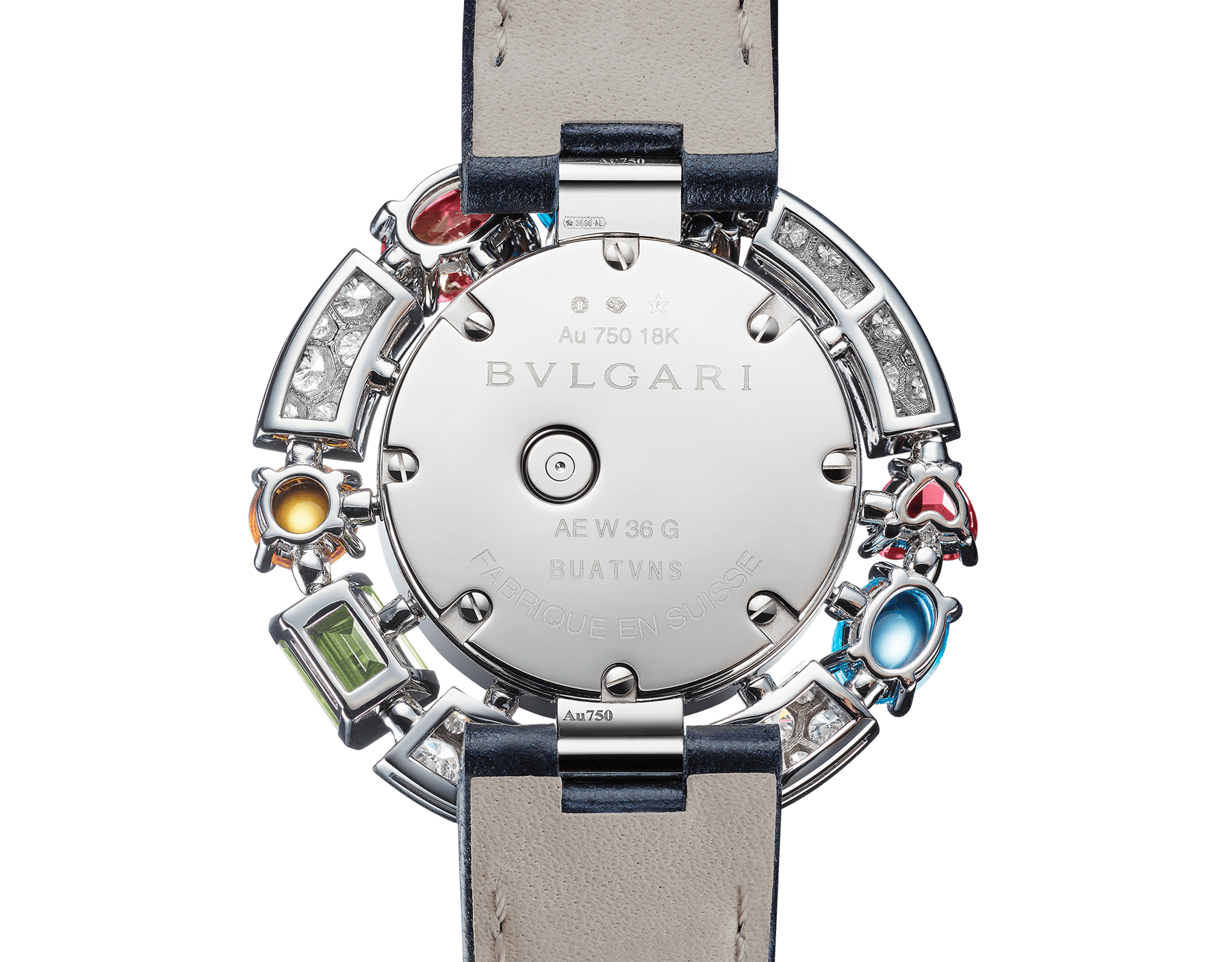 Allegra Watch
Ref . 103499
Description

Capturing the joy and exuberance of La Dolce Vita, the Allegra cocktail watch unites irresistible style and jewelry-making expertise into a vivacious and dazzling creation. The mesmerizing mix of faceted and cabochon stones celebrates the joy of color through daring and extravagant combinations, bringing to light the inner beauty of each gem. A watch suitable for every occasion, it offers an exciting and contemporary update to a classic Bvlgari design, characterized by a sparkling halo of precious gems.
Allegra High Jewelry watch with quartz movement, 36 mm 18 kt white gold case set with 84 round brilliant-cut diamonds (about 2.27 ct), 2 mixed-cut citrines (about 1.60 ct), 1 cabochon-cut amethyst (about 2.52 ct), 1 fancy-cut peridot (about 1.29 ct), 2 cabochon-cut blue topazes (about 3.06 ct), 2 mixed-cut rhodolites ( approx. 2.25 ct), mother-of-pearl dial, 12 diamond indexes, blue alligator strap and 18 kt white gold ardillon buckle. Water-resistant up to 30 meters.

Details

Movement Typology: Quartz

Band Material: Alligator leather
Capturing the joy and exuberance of La Dolce Vita, the Allegra cocktail watch unites irresistible style and jewelry-making expertise into a vivacious and dazzling creation. The mesmerizing mix of faceted and cabochon stones celebrates the joy of color through daring and extravagant combinations, bringing to light the inner beauty of each gem. A watch suitable for every occasion, it offers an exciting and contemporary update to a classic Bvlgari design, characterized by a sparkling halo of precious gems.
Allegra High Jewelry watch with quartz movement, 36 mm 18 kt white gold case set with 84 round brilliant-cut diamonds (about 2.27 ct), 2 mixed-cut citrines (about 1.60 ct), 1 cabochon-cut amethyst (about 2.52 ct), 1 fancy-cut peridot (about 1.29 ct), 2 cabochon-cut blue topazes (about 3.06 ct), 2 mixed-cut rhodolites ( approx. 2.25 ct), mother-of-pearl dial, 12 diamond indexes, blue alligator strap and 18 kt white gold ardillon buckle. Water-resistant up to 30 meters.
Movement Typology: Quartz
Band Material: Alligator leather
We'll keep you posted!
Please enter your e-mail address to be notified when the creation is
available and receive similar creation updates.
Remove Coupon Code?
Are you sure you want to remove the following coupon code from the shopping bag?
Don't lose the product(s) you love. Save them in your wishlist.
A confirmation link has been sent to your mailbox, please click on it to confirm your account. Click here to receive the confirmation link again