Jannah, a five petal story
"Today we manifest the dreams that we dared yesterday"
Her Highness Sheikha Fatima bint Hazza bin Zayed Al Nahyan
Bvlgari proudly pays tribute to an unprecedented collaboration, the first of its kind, with Her Highness Sheikha Fatima bint Hazza Bin Zayed Al Nahyan of the ruling United Arab Emirates Royal Family.
TWO DIFFERENT WORLDS COMING TOGETHER
A fruitful collaboration between Bvlgari and Her Highness glorifying the bond between two majestic places – Abu Dhabi and Rome – with roots that run deep through time. A journey crafted with joy and passion shared between two powerful families coming together in a celebration of shared values and reverence for heritage.
The story behind the birth of the Jannah Collection is one of love and dedication. Lucia Silvestri, the Creative Director for High Jewelry for Bvlgari, spent many hours with Her Highness Sheikha Fatima listening to her stories and vision for the future. The Princess shared her admiration for her grandparents and their tireless pursuit for tolerance and peace in the region. The Sheikh Zayed Grand Mosque in Abu Dhabi, is the most prominent embodiment of such values. This collaboration echoes the richness of the UAE paying tribute to its heritage while crafting a legacy for its future.
"Baba Zayed, you realized a 'Jannah' on our soil, truthful to our heritage while embracing the world. Today I dedicate my 'Jannah' to you."
Her Highness Sheikha Fatima bint Hazza bin Zayed Al Nahyan
The story behind the birth of the Jannah Collection revolves around a five petal Flower inspired from the delicate five petals flowers that adorn the Carrara marble ceilings and bold architecture.
"Flower petals may adorn – but they only epitomize the roots that run deeply."
Her Highness Sheikha Fatima bint Hazza bin Zayed Al Nahyan
The flower has always been part of Bvlgari's design. This graceful icon allowed Bvlgari to experiment with infinite combinations of colored gemstones, either faceted, carved or cabochon cut, often enhanced by diamonds highlights. Bold, dynamic flowers have long captured the imagination and hearts of Bvlgari women, and are a natural source of inspiration for the Jannah Flower.
A ONE-OF A KIND COLLECTION
A tribute to a rich heritage, a legacy for the future
One of the very first pieces created for the Jannah Collection was a very significant sautoir Her Highness Sheikha Fatima wanted to bestow an exceptional and personal piece upon her beloved grandmother As a final, secret homage, the Princess had her beloved grandfather's name, Zayed engraved in Arabic on the back of the pendant, thus keeping his name close to her grandmother's heart.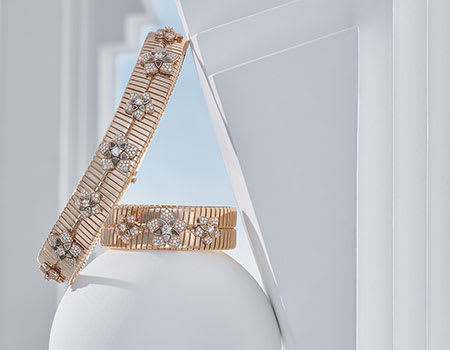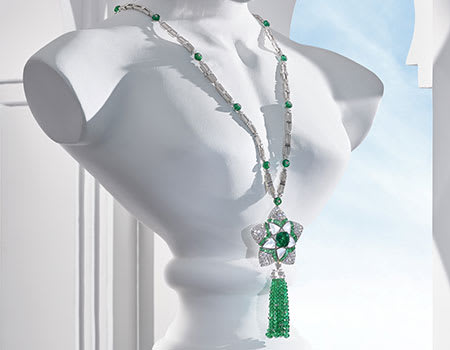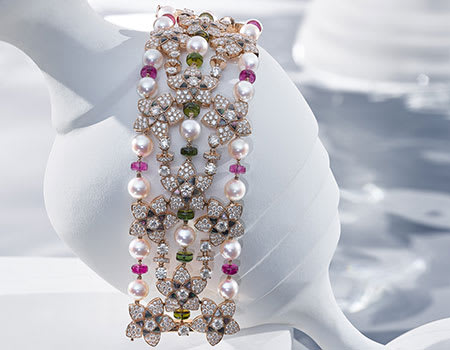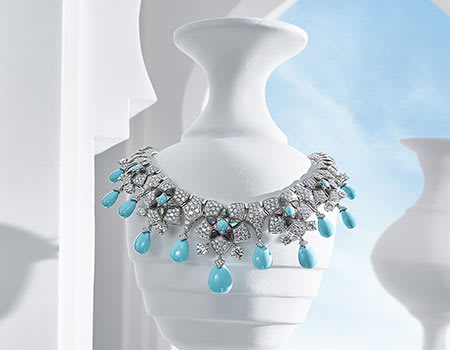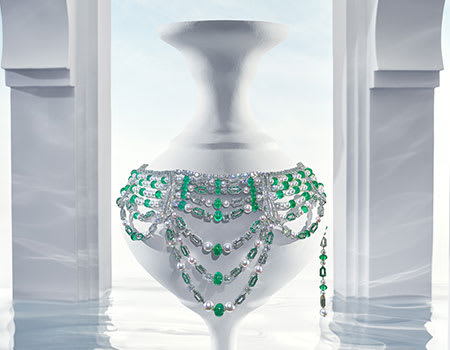 MAGNIFICENT GEMS FOR AN EAST-WEST PRINCESS
Sonam Kapoor, international actress and longtime friend of the brand, played a special role in telling the story of the fusion between eastern and western cultures as a strong, modern woman of the world. A special video dedicated to Jannah, A Five Petal Story was revealed with Kapoor embodying the figure of the Bvlgari woman across the historic backdrop of two ancient cities – Roma and Abu Dhabi.