Mediterranean Muse
Necklace
Since Homer's time, the Mediterranean's legendary blues, blazing sun, and gleaming islands have enchanted the human imagination. Its shimmering currents gave rise to the Roman Empire, with the constant movement of people, ideas, and goods along its shores. The Mediterranean Muse necklace honours the spirit of the sea that inspired it. The soul of southern Italy, the source of all her luminous beauty and seductive power.
1
2
3
1.
SIRENIC SAPPHIRE
This mesmerising cushion-cut, royal blue sapphire was found in Burma with a weight of 15.13 carats. Its alluring deep blue hue conjures the mythical water of the Mediterranean, exuding a sense of grandeur, refinement, and magnificence.
2.
HERITAGE OF COLOR
Nine light blue, pear-cut aquamarines totalling 34.63 carats contrast with the main sapphire, enhanced by nine round sapphire beads of 25.17 carats and square step-cut and pear brilliant-cut diamonds. Buff-top sapphires curl, wave-like, around the platinum neckline inlaid with step-cut, round brilliant-cut, and pavé-set diamonds.
3.
FLUIDITY IN DESIGN
Crafting such delicacy requires the utmost balance and experience. The Mediterranean Muse necklace combines different volumes and shapes while avoiding excesses and voids. The light construction and hand-set precious gems capture the watery inspiration.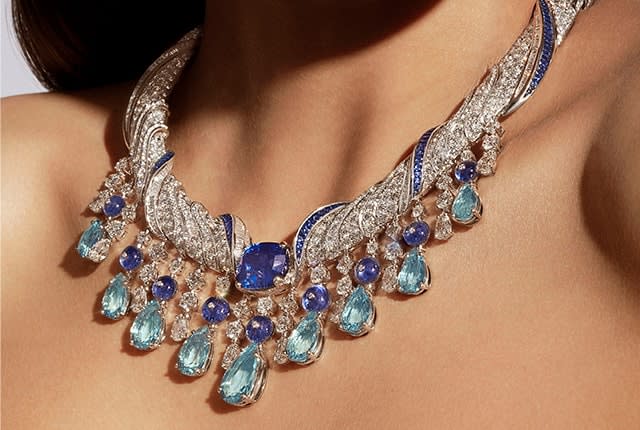 Since the 1960s, Bulgari has been known for flawless combinations of precious gems with coloured gemstones. The Mediterranean Muse necklace preserves this heritage through an interplay of contrasting colours, idealised proportions, and shimmering translucence. When worn, the constellation of blues flow against the body in a mesmerising dance of colour and light.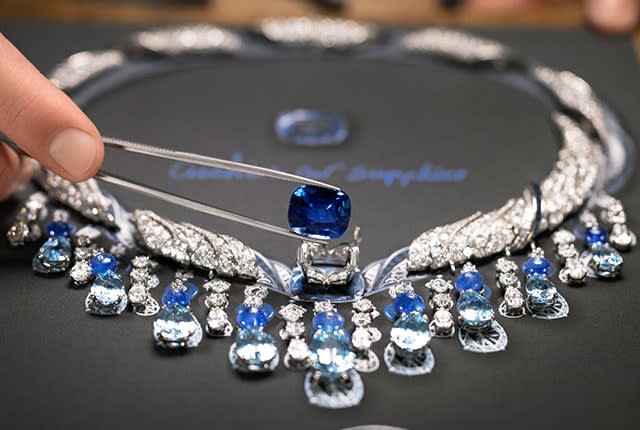 Balanced yet as dynamic as the sea itself, the exceptional craftsmanship is evident in every detail of this work of unparalleled beauty, which took 1,600 hours to create. The drop design, which contrasts diamonds with sapphires and aquamarines, is meant to resemble the flow of the tide. Pavé diamonds are scattered and swirled with the gems to let light through, evoking the momentary glitter of sunlight reflecting on the waves.