Serpenti Watch
bulgari
Ref . 103189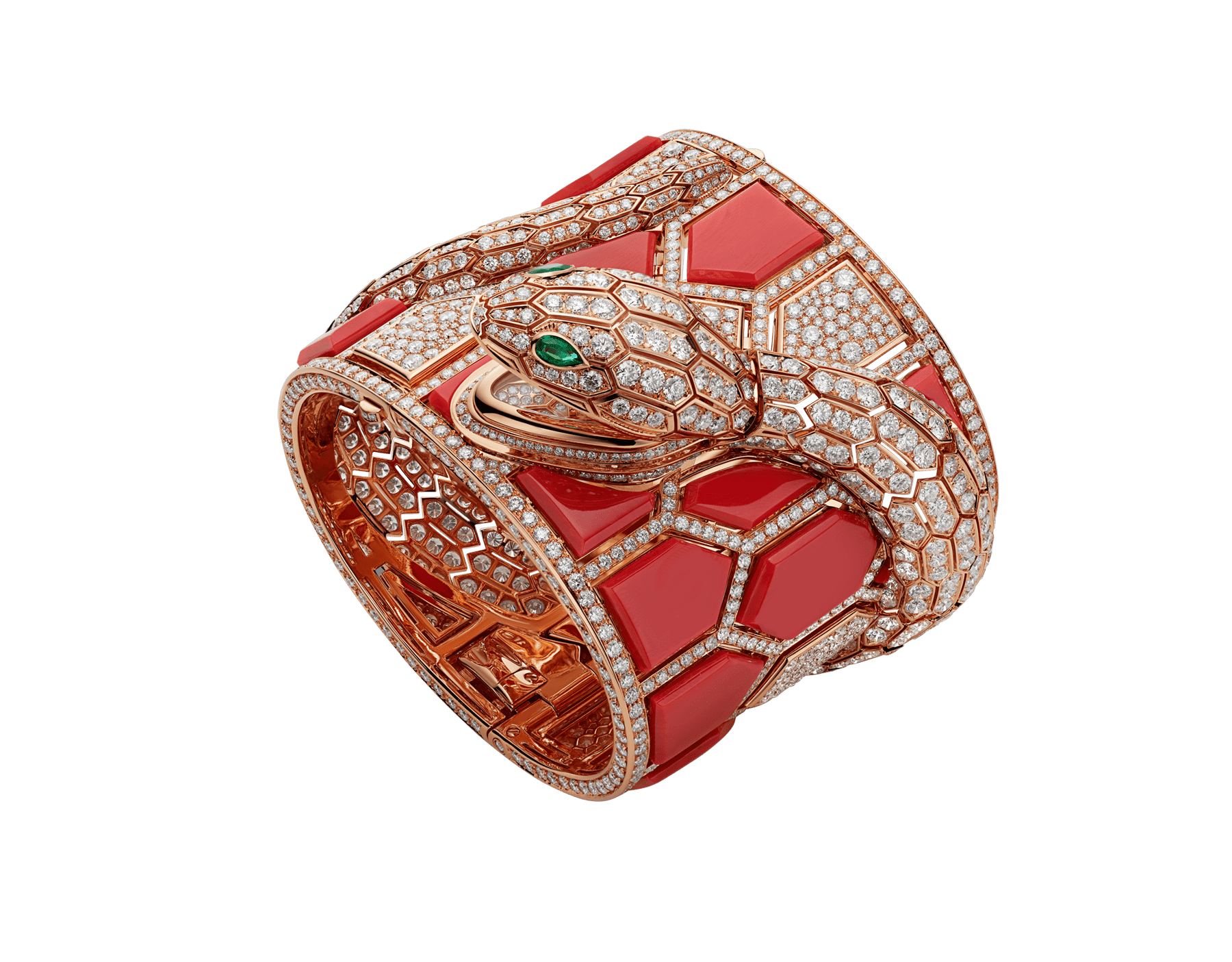 Serpenti Watch
Ref . 103189
Description

Inspired by the manchettes that powerfully coiled around the wrist of gladiators and by the iconic jewels worn by legendary seductresses of Ancient Rome, the Serpenti Romani Secret Watch boasts the enchanting charm of the serpent with sparkling gems and a powerful design. Striking and mesmerizing, the snake sensually slithers around a cuff gifted with a special system of tiny hidden springs, moving each gem composing the hexagonal scales: an entirely bold and new way of wearing Serpenti. Serpenti Misteriosi Romani watch with quartz movement, 18 kt rose gold handcuff set with coral elements and round brilliant-cut diamonds, snake body in 18 kt rose gold set with round brilliant-cut diamonds and two pear-shaped emeralds.

Details

Movement Typology: Quartz
Inspired by the manchettes that powerfully coiled around the wrist of gladiators and by the iconic jewels worn by legendary seductresses of Ancient Rome, the Serpenti Romani Secret Watch boasts the enchanting charm of the serpent with sparkling gems and a powerful design. Striking and mesmerizing, the snake sensually slithers around a cuff gifted with a special system of tiny hidden springs, moving each gem composing the hexagonal scales: an entirely bold and new way of wearing Serpenti. Serpenti Misteriosi Romani watch with quartz movement, 18 kt rose gold handcuff set with coral elements and round brilliant-cut diamonds, snake body in 18 kt rose gold set with round brilliant-cut diamonds and two pear-shaped emeralds.
Movement Typology: Quartz
We'll keep you posted!
Please enter your e-mail address to be notified when the creation is
available and receive similar creation updates.
Meanwhile, you might also like..
Remove Coupon Code?
Are you sure you want to remove the following coupon code from the shopping bag?
Don't lose the product(s) you love. Save them in your wishlist.
A confirmation link has been sent to your mailbox, please click on it to confirm your account. Click here to receive the confirmation link again