Esedra
Necklace
Cantered on an emerald as magnificent and nuanced as Rome itself, the Exedra Necklace is a legacy sautoir pendant inspired by a symbol of the Eternal City's architectural layering.
1
2
3
1.
EMERALD JOY
The long, elegant neckline culminates in the exquisite central emerald, set in an evocative medallion echoing the Roman landscape, a detail easily recognized by Bulgari connoisseurs. Discovered in Colombia with a substantial weight of 68.8 carats, the stone is exceptional due to its bright, vivid color.
2.
HARMONIOUS CONTRAST
Bulgari's contemporary flair flows through a harmonious contrast of colorful precious and semiprecious gems. The hexagonal pendant, set with 124 buff-top emeralds (9.88 carats), nine round cabochon amethysts (6.03 carats), and turquoise elements, updates the pendant's shape while providing continuity with sacred, ancient geometry.
3.
PERFECT GEOMETRY
Bulgari's frequent use of the six-facet outline on the sautoir pendants is closely linked to Roman art and culture, and places the focus on magnificent gems. Characterized by intricacy and lightness, this contemporary interpretation of the sautoir required skilled setters to realize such a balanced and technically complex design.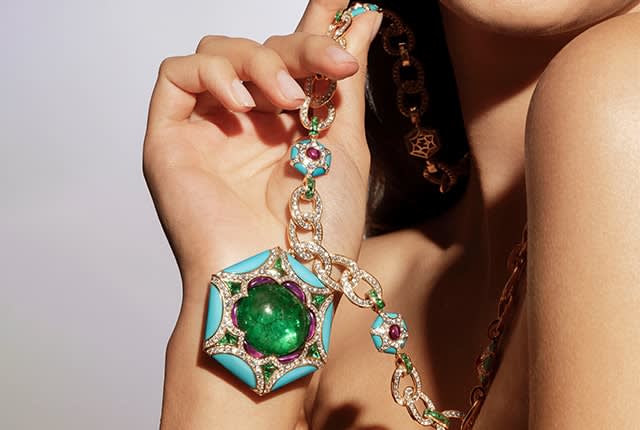 With its origins in Renaissance nobility, the sautoir has a long, aesthetic history for Italy and Bulgari. It has been a recurring theme in the house's design lineage since the 1970s. Characterized by intricacy and lightness, this contemporary interpretation is a precious creation with a carefree spirit.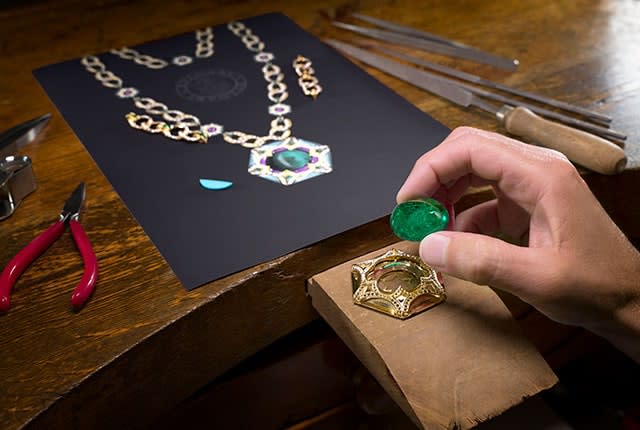 Craftsmanship conceals expertise, where the skill lies in setting the stones, one by one. The necklace's classic and timeless latticework creates a luminous background to highlight the stones. A few millimeters of difference can cause opacity, a loss of brilliance invalidating the whole piece. The lively turquoise inserts were carefully contoured to enhance three-dimensionality, a challenge requiring world-class cutters and setters.