Oriental Buds
Necklace
Since antiquity, Western empires have marveled at the aesthetics of their Indian and Persian neighbors, in an effort to bridge the gap between distant worlds. Like the seeds scattered over the centuries along the Silk Road, conceptual "flowers" from the East have sprouted in the Mediterranean basin. The Oriental Buds necklace by Bulgari is a stunning High Jewelry piece that interprets this poetic vision into a symbolic garden of cross-Mediterranean inspiration.
1
2
3
1.
EMERALD FLOWER
The antique cabochon emerald rises on a layered bed of petals inlaid with round, brilliant-cut and pavé-set diamonds. Originating in Colombia and weighing 13.34 carats, this luminous stone is the spectacular centerpiece amid a kaleidoscope of Indian Mughal-inspired motifs.
2.
CELESTIAL SEEDS
The protagonist emerald is complemented by round diamonds, 107 buff-top emeralds, and 40 buff-top sapphires that were specially cut for this unique structure. Six pink tourmalines, ten sapphires, and ten emerald beads shaped like precious celestial seeds are interspersed around the rose gold collar, intensifying the interplay of colors.
3.
A GARDEN OF DESIGN
The intricately layered setting intersects the diamonds with buff-top emeralds and sapphires, creating a complex "terraced" effect. It takes a lot of technical skill to achieve such perfect symmetry through color and shape—much like tending to an exotic garden bursting with life and energy.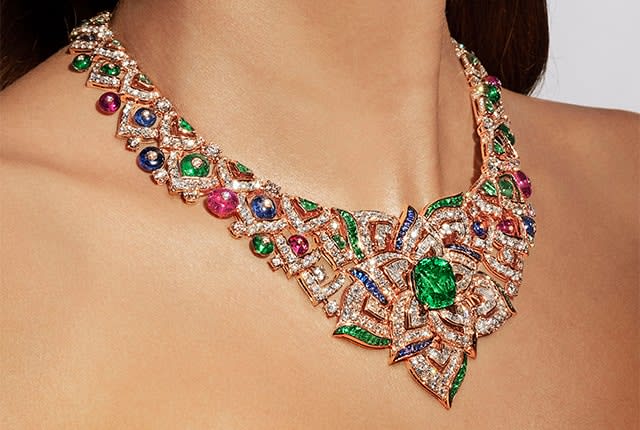 Through design and inspiration, the Oriental Buds necklace resembles a multicolor garden where serenity and beauty are perpetually in bloom and East and West coexist in harmony. Both charismatic and enigmatic and imbued with Bulgari's signature bold colors, this precious, one-of-a-kind piece contains hints of contemporary elegance and historic charm.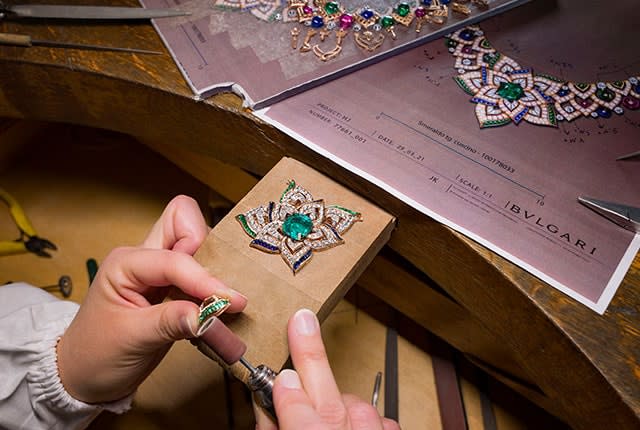 The piece's intricate "terraced" design, which took an incredible 2,300 hours to complete, is a tribute to the craftsmanship of its designers. Every element of the necklace's design, from the selection of the central emerald to the cutting and placement of each individual stone, was expertly refined through a masterful symbiosis of expertise and innovation.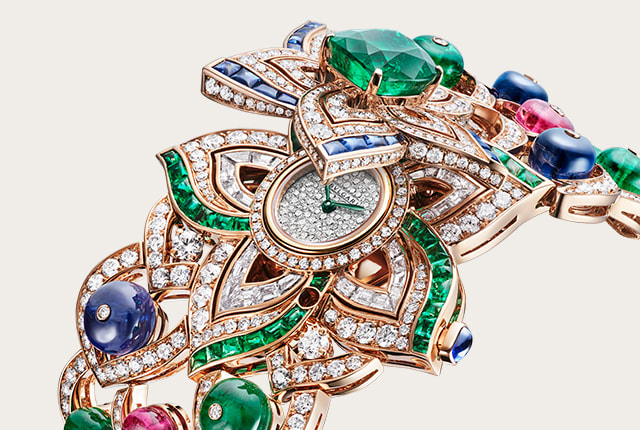 The Oriental Buds High Jewelry secret watch evokes a lush garden with geometric symmetry drawn from the intricate designs of Byzantine architecture. Presented with a matching necklace, a story emerges: a tale of two worlds coming together, cultures colliding, to create something new and beautiful.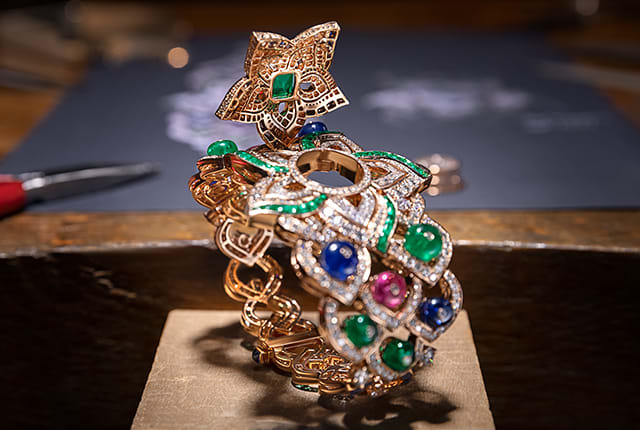 A pinnacle of craftsmanship, this exceptional timepiece took a staggering 900 hours to create. With a simple nudge of the central emerald, the flower opens to reveal a dial enhanced with diamonds, highlighting the precision and ingenuity that went into its creation. A testament to the artistry and craftsmanship of the past, the Oriental Buds secret watch is an exquisite reflection of the dedication and skill of Bulgari's master artisans.