Serpenti Baroque
Necklace
The serpent was treasured throughout the ancient world, from Egypt to Greece, as a symbol of protection. The Serpenti Baroque Necklace contemporizes the motif with an unexpected combination of precious stones, transforming this ancestral emblem–synonymous with Bulgari since the 1940s–into a new era of Serpenti.
1
2
3
1.
LIQUID EMERALDS
Eight emeralds with an imposing total weight of 109.82 carats form the dramatic heart of the necklace. The emeralds' deliberately irregular baroque shape is characteristic of Mughal art and jewelry. Hand-selected in Zambia, their luminous quality and raw, vivid color can be described as "liquid," almost watery in appearance.
2.
SINUOUS LIGHT
The artisan's skilful craftsmanship is demonstrated by their ability to bring balance to the design via lightness, managing a contrast of empty spaces and 74 carats of marquise diamonds. The diamonds' unique elongated shape and pointed ends create a dramatic effect, enhancing the overall feeling of sinuosity.
3.
LAYERED MOTION
Distinct balance is found in the unexpected contrast of a geometric, yet sinuous serpentine aesthetic focused on the protagonist emeralds. Bulgari's inimitable craftsmanship is exemplified through the intricacy of its diamond setting with overlapping surfaces to create a continuous feeling of layered motion.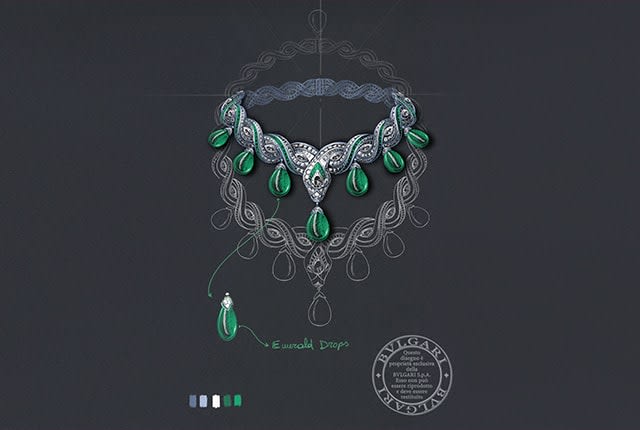 The Serpenti Baroque Necklace continues a years-long design journey by enhancing Serpenti's protective power with otherworldly emeralds, believed by the ancient Egyptians to provide spiritual and physical protection and worn by antiquity's most prominent figures, such as Cleopatra herself.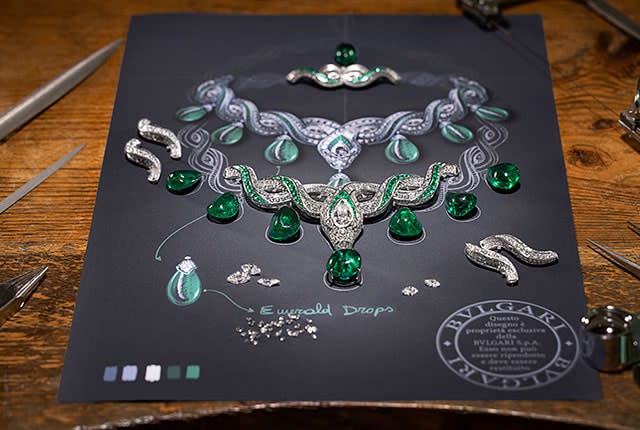 The Serpenti Baroque Necklace required 1,650 hours to create. Every detail required intense focus and attention, from the intricate design of the pavé-diamond scales to the placement of the precious stones. With each emerald set by hand, the artisan weaves a tale of beauty and elegance, imbuing the jewelry piece with a sense of timeless grace and captivating allure.