Oriental Mosaic
Necklace
Mughal architecture and design is renowned for intricate details, grandeur, and a fusion of cultural influences. The Oriental Mosaic Necklace emulates this rich visual language with a complex layout blending inspiration from nature with nods to jewel-embedded columns, white marble domes, and grand mosaic artworks.
1
2
3
1.
PRECIOUS COLOR
The rose gold necklace elaborates on Bulgari's classic Divas' Dream design, deftly imbuing hard stones such as pink rubellite, sapphire, and diamonds with delicate textures. Chrysoprase and turquoise inlays are cut with veins, animating the lively mosaic design with the intricacy of flower petals.
2.
NATURE'S POETRY
The colors of flowers, nature's poetry, are expressed through two rubellites–one pear-cut and one bead totaling 16.65 carats–set alongside 9.57 carats of buff-top sapphires and 6.30 carats of buff-top pink tourmalines. Round, brilliant-cut diamonds enhance the ginkgo-leaf shape with visual hints of architectural splendor.
3.
MAJESTIC MOSAIC
This unique adaptation of the stones' setting is pieced together using the mosaic technique. The cutter's naturalistic interpretation of the stones is as profound as that of the Mughal architects, whose elegant vision realized in palaces defined a culture for generations.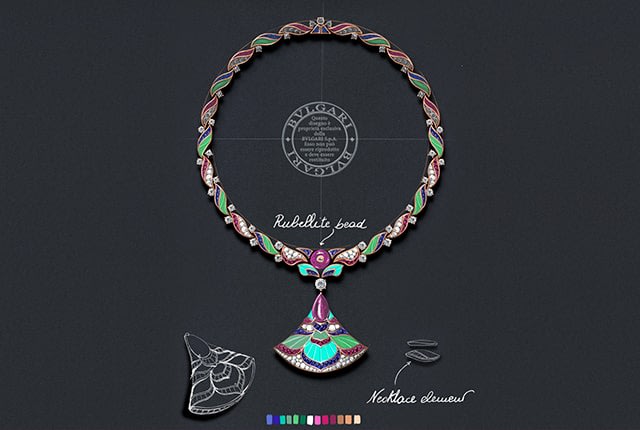 Every element is perfectly placed to create a breathtaking whole. The use of rich, warm colors creates a captivating harmony that is unique to Bulgari. The handcrafted intricacy of the patterns exemplifies commitment to craftsmanship and attention to detail while also paying homage to the timeless beauty of the Mughal era.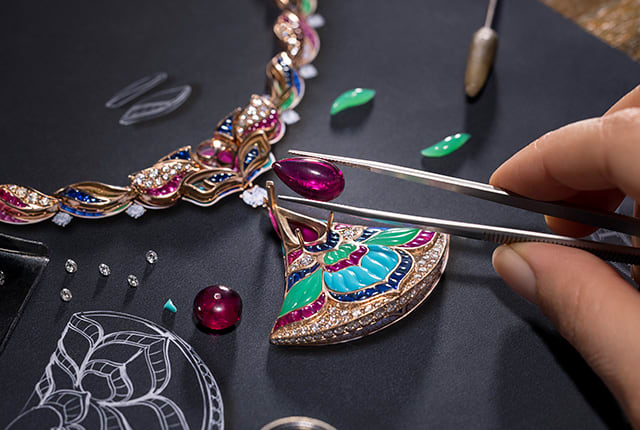 The Mughals were skilled at using precious and semi-precious stones in their art, which they often cut and shaped into intricate designs, creating stunning works of art. A modern artisanal masterpiece with an old-world soul, The Oriental Mosaic Necklace follows in this tradition, requiring an astounding 1,200 hours to bring to life.