Mediterranean Sapphire
Necklace
The ancient Mediterranean was comprised of wildly diverse cultures that often clashed, yet one powerful symbol transcended their differences and came to be worshipped by them all. From Babylon to Athens, the serpent was revered as a talisman of vitality, wisdom, and protection. In modern times, Bulgari has become the serpent's keeper, resurrecting and transforming it into an emblem of High Jewelry through contemporary designs and colorful combinations of the rarest precious stones.
1
2
3
1.
SINUOSITY IN STONE
Nine sapphires originating in Zambia, totaling 40.81 carats, shine with the deep blues of their eponymous sea. The intensity of their colors and the setting's ethereal quality perfectly offset the strong base neck structure, conveying a feeling of fluidity.
2.
UTMOST VIBRANCY
Diamonds of different cuts totaling 35.54 carats culminate in a long, dramatic pendant "tassel" comprised of 80 oval-cut sapphire beads weighing 116.01 carats.
3.
FLOWING MOTION
The Mediterranean Sapphire Serpenti Necklace wraps its platinum and pavé-diamond body in a slithering S-shaped line. The serpentine movement is elevated to its most dynamic expression with the contrast of colorful precious gemstones and diamonds, a Bulgari characteristic since the 1960s.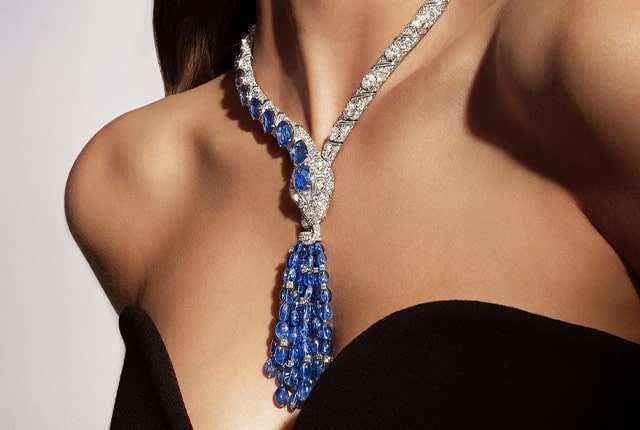 As it rests against the skin, the necklace's deliberate play of contrasts—white diamonds with intense sapphire blues or the strong neckline with the tassel's gentle sway—recalls the relentless energy of the Mediterranean shores. When worn, it channels the sea's vital beauty, the ebb and flow of waves and foam.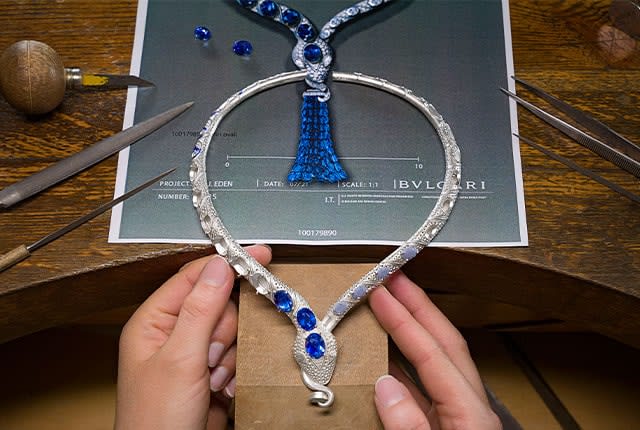 This one-of-a-kind piece, which took 1,400 hours to precisely handcraft, is a true monument to the craftsmanship of the artisans who made it. The precise diamond settings that evoke the scales show off Bulgari's expertise and heritage, and the layered effect of overlapping surfaces creates the underlying impression of sinuosity in motion.