Acanthus Emerald
Necklace
The Ara Pacis, or "Altar of Peace," was built by Rome's first emperor, Augustus, and is decorated with some of antiquity's finest reliefs. Intricately carved Acanthus flower motifs swirl so vividly around the façade that it feels like you can almost pick them off the white marble in real life. In the Acanthus Emerald necklace, the arch's transcendent design echoes across the ages. A monumental piece, it combines history, timeless craftsmanship, and eternal beauty.
1
2
3
1.
ETERNAL EMERALDS
Seven protagonist pear emeralds—one for each of Rome's hills—total 33.57 carats and shine with the light of the ages. They are set among 60 buff-top emeralds, masterfully mounted with 68 step-cut and 53 round, brilliant-cut and pavé-set diamonds.
2.
A GLOBAL QUEST
The quest for aesthetic perfection on a global scale is part of Rome's enduring legacy. Following this spirit, the emeralds were discovered in Colombia after a patient, multi-year quest. It is incredibly rare to find two, let alone seven, stones of such superior color, carat weight, and transparency that fit together in perfect harmony.
3.
TRIUMPHANT DESIGN
The necklace's timeless design elegantly echoes the honorary wreaths that decorate the Ara Pacis. Bulgari's artistic skill reinterprets the Acanthus flower, an ancient symbol of eternal life, through the intricate floral pattern created by the positioning of the precious stones.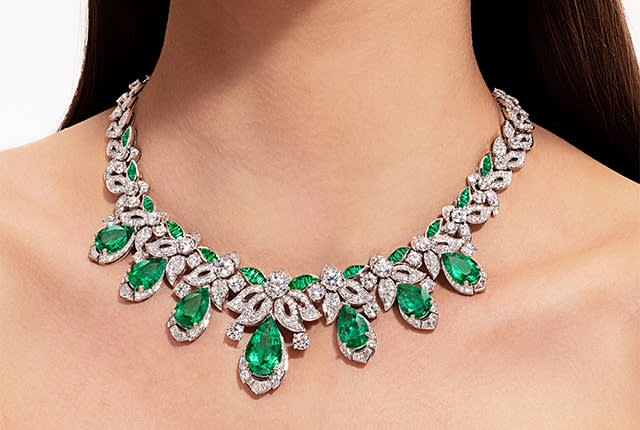 Shining with the light of antiquity, this magnificent piece is also a contemporary, wearable work of art. The piece sits comfortably against the skin due to the significant weight of the emeralds and the purity of the fancy step-cut diamonds meeting densely set pavé diamonds. Perfect visual balance is achieved by carefully placing each gem.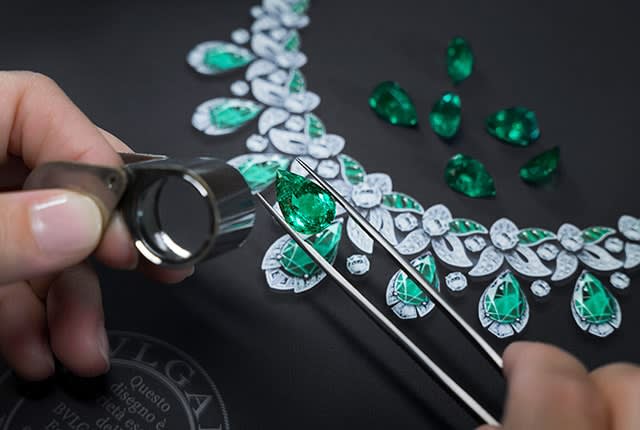 The composition is a one-of-a-kind example of Bulgari's mastery of unique layouts and a testament to the talent and vision of the most gifted craftsmen of our time. Expert gem-setting is essential in such a rich design to achieve overall luminosity, especially against a platinum neckline. Each diamond is individually hand-set to bring out its maximum brilliance, while the intricate patterns pay homage to the inimitable art of Imperial sculptors.