Emerald Lotus
Necklace
The Emerald Lotus Necklace expresses the aesthetics of Indian spirituality in jeweled form. The wave-like design is evocative of the deeply symbolic lotus flower and centered around an otherworldly emerald, placed horizontally to symbolize the "third eye", which provides perception beyond the ordinary world.
1
2
3
1.
MAHARAJA EMERALD
The majestic protagonist emerald, a maharaja stone, was found in Colombia with a weight of 37.14 carats. With its radiant green glow whispering of renewal and abundance, this regal emerald conveys a spiritual potency that ignites the soul and uplifts the heart.
2.
EMANATION OF LIGHT
The undulating design of round, brilliant-cut diamonds (48.74 ct) accented with 20 emerald beads (53.2 ct) radiating from the center enhances the sense of spiritual magnetism. Meticulously arranged in a curved pattern, the diamonds create a dazzling interplay of light that further elevates the emeralds' luminosity.
3.
DRAPED STONE
Initially conceived as flat, the design was reimagined with greater tactility and depth to evoke a pashmina's soft, graceful drape. Irregular pavé griffes were devised to enhance the feeling of movement as if it were a "froissé." The resulting volume conveys gravitas and the incredible richness of the materials.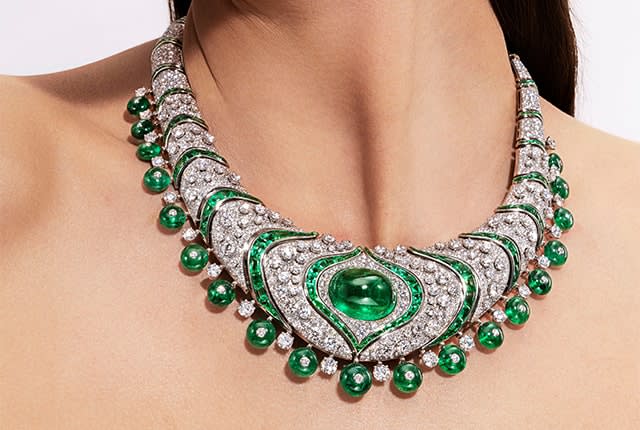 The Emerald Lotus Necklace transcends conventional adornment practices by elevating the human spirit through its intricate design and remarkable beauty. The necklace serves as a tangible representation of the intangible spiritual realm, imbued with symbolism and meaning that speaks to the wearer's deepest aspirations and desires.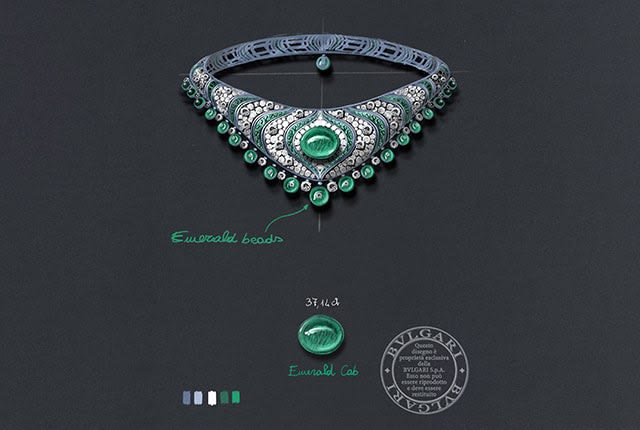 Realizing so complex a design was an intense labor of love, requiring a total of 2,200 hours of skilled workmanship. The emeralds and diamonds were carefully selected for their exceptional quality and luster, and each one was set by hand to ensure a perfect fit. Achieving an elegant drape-like softness in a hard setting, precious stones were used to showcase the pinnacle of contemporary jewelry-making expertise, a testament to Bulgari's master artisans.